I'm Not There, written and directed by Todd Haynes, is the sort of complex film that isn't made anymore, especially with the cast and acclaim that has been attached to the film. It's a film that doesn't reveal itself easily but is infinitely watchable and interesting. I was curious about this film when I read about it as a small blurb in Film Comment many issues ago. I'm also a lover of Todd Haynes films so of course I'm Not There was on my list of films to see.
I'm Not There is a film about Bob Dylan and his many identities. Played by six actors each portraying an aspect of the life and personality of Dylan, the film plays like a series of short films cut together and linked by the theme of identity. The aspects of Dylan portrayed mirror the different larger movements in his career with particular interest in the period when Dylan went electric (a time documented in the film Don't Look Back, by D. A. Pennebaker).
What I liked: This is a difficult film to write about, in a good way. It's intelligent and thought provoking and one of the most interesting films I've seen in quite awhile. That seems like an insult but it's not (it is in the "What I liked" section), I found that this film, while difficult to penetrate, held my attention throughout. Not since seeing Persona (Bergman) have I been so transfixed by a film that didn't immediately reveal itself to me.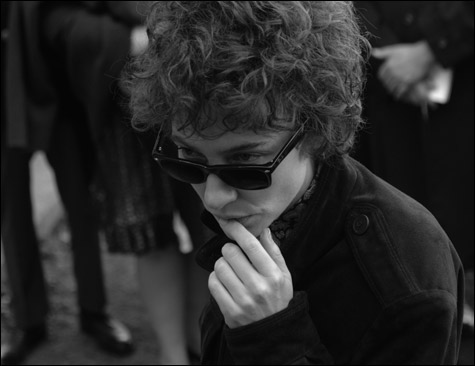 Performances are the highlight of this film, especially Cate Blanchett as Jude. All the actors are in top form, Heath Ledger, and Christian Bale deserve special mention as well. Haynes shoots each story in a different style, which is a technique I love. The Fellini-style story, with Blanchett, is my favorite and was a technique (with the borrowed 8 1/2 location, black and white photography, and a specific dolly shot that I like where the camera starts as a POV and ends with the character entering the shot in OTS) that I recognized immediately because it's one that I plan to steal (sorry, homage) in my films. The Robbie story, with Ledger as an actor who played the Dylan character in a movie, is also moving and grounds the film.
The plot snakes its way from character to character, carving out small pieces of Dylan's life and allowing us to live with the characters and know them like few films achieve.
What I didn't like: After picking up a new thread we lose the momentum of the scene we've just come from. As a result the film dragged twice for me, usually associated with Woody's story.
4 stars.